About WWS Woodworks
Creating functional furniture with simple beauty and elegance challenges William to design pieces for the individual with international appeal.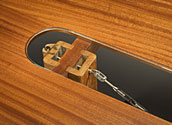 All WWS Woodworks furniture is designed and handcrafted to meet individual function. William's experienced eye is used to select unique lumber which emphasizes figure, rich color and natural defects. Every detail is noticed on a WWS furniture piece and finished to maximize the wood's natural beauty and protect it from the elements for your lifetime and beyond. Thank you for visiting WWS Woodworks.
About William Smith

William Smith is the owner and craftsman behind WWS Woodworks. William applies his formal schooling as a mechanical engineer in the design and functionality of his furniture pieces. Years of maintaining boats and studying under the master craftsmen Peter Follansbee and Henry Fox established his vast skill set for designing and producing handcrafted furniture.
See samples of his fine work in the Gallery.
Environmental Awareness
WWS Woodworks is dedicated to preserving the environment, reducing global climate change and promoting sustainable forestry. A primary focus is to conduct business in an environmentally responsible and proactive manner. WWS aims to conserve natural resources, minimize waste, encourage energy efficiency and the use of renewable energy sources.